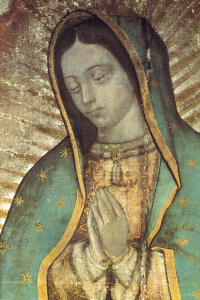 Our Lady of Guadalupe:
Our Lady appeared to an Indian, now St. Juan Diego, near the Aztec capital,  the great city of Tenochtitlan, now Mexico City, then as now thought to  be the largest city in the world.
Juan Diego, not an Aztec, was in his 50s, when  our Lady appeared to him in 1531. To convince the bishop, our Lady, during one of  her apparitions, had Juan Diego hold his tilma out and she filled it with roses, which normally do not grow in Mexico in December. His tilma is like a poncho  and is made of cactus fibers which usually rot after 30 to 40 years.  When Juan spilled the roses on the floor, the bishop saw the image we are now familiar with. The tilma is still on display in a large basilica in Mexico City.
The image shows Our Lady wearing a black band around her waist, as pregnant  Indian women wore. Mary's apparition resulted in the conversion of the Indians  and an end to the terrible and numerous human sacrifices that the Indians made
on the tops of their pyramids.
Life Issues
Abortion
End of Life
Capital Punishments
Chastity Education
Embryonic Stem Cell Research
Human Cloning
Reproductive Issues
Same Sex "Marriage"