Baptism
The Sacrament of Baptism is normally celebrated on Sundays, either during the 10:15 AM Mass or immediately thereafter. Normally, baptisms are not celebrated during Lent. All parents desiring to have their first-born child baptized must meet with Deacon Anthony Nwankwo or Deacon Richard Santos prior to the baptism. Godparents, while welcomed, are not required to attend the preparation session. Parents are not required to attend preparation sessions for the baptisms of subsequent children. In order to begin the process, parents are asked to contact the parish office at 860-242-4142.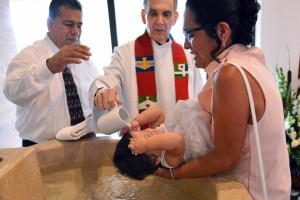 First Penance & First Communion
Preparation for the celebration of both sacraments takes place during the second grade. Children who attend local Catholic schools, while not being required to attend classes here, are strongly encouraged to celebrate these sacraments here at Sacred Heart. The preparation for and celebration of these sacraments for older children or adults can be arranged with the pastor on an individual basis.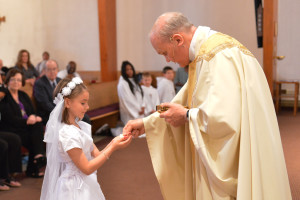 Confirmation
Preparation for Confirmation at Sacred Heart Church aims at leading the candidates towards a more intimate union with Christ and more lively familiarity with the Holy Spirit – his actions, his gifts, and his biddings – in order to be more capable of assuming the apostolic responsibilities of Christian life. To this end, the program for Confirmation, strives to awaken a sense of belonging to the Church of Jesus Christ, the universal Church as well as the parish community.
The family of the candidate must be registered as parishioners of Sacred Heart Church. Exceptional cases may be considered on an individual basis. The confirmation program is open to a candidate who has been baptized, received the Sacrament of Holy Communion and who will at least be a sophomore (10th grade) at the time of Confirmation. Students at the 11th or 12th grade level who have not received the Sacrament are also welcome to register. The program includes classes, retreats and activities as well as participation in the Sacred Heart Youth Alliance.
Confirmation is celebrated in the spring or fall of every other year. Please contact the parish office for further information. Confirmation for adults can be arranged individually.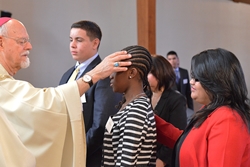 Marriage
Couples who wish to celebrate their marriage at Sacred Heart should notify the parish as soon as possible, no later than six months prior to the desired date. It is best that couples contact the parish first before scheduling a date and time for their reception. Normally, weddings are celebrated on Friday evenings or Saturdays. The latest time for a wedding to be scheduled on a Saturday is 2:00 PM.
For further information on any of these Sacraments, please contact the parish office at 860-242-4142.